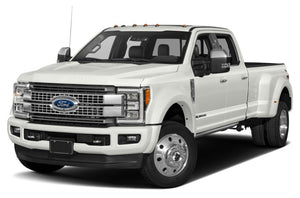 ord F-450 (2018) Car Starter Remote Start [NO HORN HONK 100% Plug 'n Play Kit
Regular price $0.00 $170.00 Sale
THIS IS MY REMOTE START FOR THE FOLLOWING VEHICLE. THIS UNIT WORKS BY PRESSING LOCK UNLOCK LOCK ON YOUR FACTORY REMOTE. (SO NO HORN BEEPS WHILE YOU PRESS THE BUTTONS TO ACTIVATE WITH THIS VERSION ). ONCE STARTED, PARKING LIGHTS WILL TURN ON AND RUN TIME IS SET FOR 15 MINS.
REQUIREMENTS FOR REMOTE START TO WORK:
MUST HAVE KEYLESS ENTRY ON YOUR KEY FOB
MUST HAVE A FACTORY HOOD PIN
YOU CAN CHECK FOR A HOOD PIN BY SITTING IN THE VECHICLE PRESSING THE LOCK BUTTON 3 TIMES WAITING 30 SECONDS POPING THE HOOD IF HORN GOES OFF THEN YOU HAVE A HOOD PIN. ALSO YOU CAN TURN THE CAR ON POP THE HOOD AND IT SHOULD SAY HOOD AJAR IN YOUR CLUSTER .