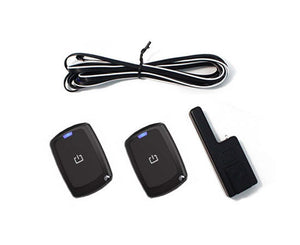 FORTIN 2000 FT EXTENDED RANGE 1 BUTTON KIT
Regular price $80.00 Sale
eBay
Fortin RFK411 
1-Button RF Kit
The RFK411 1-way RF Kit is a new cost effective 1-button 1-way RF kit that maximizes urban range and reliability. 
 Lock, unlock, start and stop function can be controlled with a single button.   
The kit includes a one-way one button remote with up to 2000 ft. of range and a Fortin FMH antenna with
 programming button, LED indicator, and connects directly to the module no additional parts required.  
Compatible with EVO-ONE, EVO-ALL AND E400
INSIDE THE BOX
2 X RM411 1-WAY, 1-BUTTON REMOTES
2,000-FT. (600 M) RANGE (433 MHZ)
FMH ANTENNA (WITH PROGRAMMING
BUTTON AND LED INDICATOR)
1X ANTENNA
CABLE