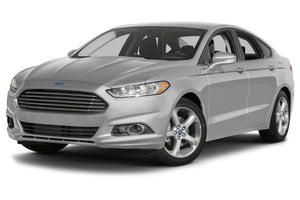 Ford Fusion (2017 - 2019 ) Add-On Cell App for Existing Factory Remote Start Kits (1 Year Service Included) 100% Plug 'n Play Kit
Regular price $399.00 Sale
THIS IS MY FORD FACTORY REMOTE START UPGRADE PLUG AND PLAY ADD ON CELL PHONE APP CONTROL KIT. YOU MUST HAVE A FACTORY REMOTE START ALREADY INSTALLED IN YOUR VEHICLE. THIS KIT WILL CONTROL YOUR FACTORY REMOTE START AS WELL AS YOUR LOCK AND UNLOCK YOUR DOORS . YOU CONTROL YOUR VEHICLE  FROM ANYWHERE AND EVEN LOCATE YOUR VEHICLE WITH GPS SERVICE INCLUDED . DON'T PAY OVER $600 AND $60 A YEAR FOR SERVICE FOR THE FACTORY UPGRADE . THIS SERVICE IS $60 FOR 3 YEARS AND INCLUDES GPS LOCATION.
Remote Start, Keyless Entry, and GPS with 1-Year service included. The TELE-CONNECT add-on interface module allows control of  remote start system through a downloadable Smartphone application. The app provides control of your vehicle from virtually anywhere Verizon CDMA network services are available. Additionally, an integrated GPS locator will show you where you vehicle is at anytime from anywhere.
ONE YEAR SERVICE IS INCLUDED IN THIS PACKAGE.
Subscription Options
• 1 Year included free at purchase
• 1 Year Renewal - $49 USD
• 2 Year Renewal - $39 USD
• 3 Year Renewal - $99 USD
Smartphone Compatibility
iPhone: iOS 9.0 or later (iPhone/iPad/iPod Touch)
Android: Requires Android 4.1 and up
Smartphone App