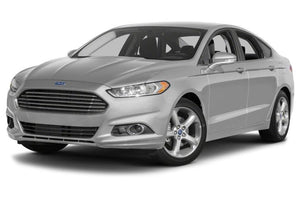 Ford Fusion (2014 - 2016 ) Car Starter Remote Start 100% Plug 'n Play Kit
Regular price $195.00 Sale
This is our Brand NEW Version 2 Ford remote start which comes with a faster processor and other upgradeable features like extended range and cell phone activation.. This kit activates by hitting the lock button 3 times to start the car.

This kit is 100 % plug and play nothing else is needed.
This will work on all models as long as it meets these requirements.

REQUIREMENTS for remote start to work:
* Must have keyless entry on your Key FOB
* Must have a factory hood pin
YOU CAN CHECK FOR A HOOD PIN BY SITTING IN THE VEHICLE PRESSING THE LOCK BUTTON 3 TIMES WAITING 30 SECONDS, POPPING THE HOOD. IF HORN GOES OFF THEN YOU HAVE A HOOD PIN. ALSO YOU CAN TURN THE CAR ON, POP THE HOOD AND IT SHOULD SAY HOOD AJAR IN YOUR CLUSTER.

THIS REMOTE START ENABLES FEATURE CONFIGURATION VIA OEM STEERING CONTROLS AND INFORMATION DISPLAY.

The following remote start features can be configured via the information display:

Climate control.

Heated seats/steering wheel.

Runtime.

Remote start enable/disable.