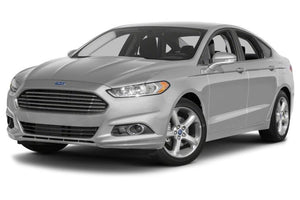 Ford Fusion (2014) Car Starter Remote Start 100% Plug 'n Play Kit [With Cell App & GPS]
Regular price $300.00 Sale
THIS IS MY 100% PLUG AND PLAY FORD REMOTE START KIT FOR THIS VEHICLE. MY DESIGN IS THE ONLY 100% PLUG AND PLAY KIT ON THE MARKET FOR THESE VEHICLES. THIS UNIT ACTIVATES BY PRESSING LOCK BUTTON 3 TIMES ON YOUR FACTORY REMOTE. RUNTIME IS SET FOR 15 MINS 
Remote Start, Keyless Entry, and GPS with 1-Year service included. The TELE-CONNECT add-on interface module allows control of  remote start system through a downloadable Smartphone application. The app provides control of your vehicle from virtually anywhere Verizon CDMA network services are available. Additionally, an integrated GPS locator will show you where you vehicle is at anytime from anywhere.
ONE YEAR SERVICE IS INCLUDED IN THIS PACKAGE.
Subscription Options• 1 Year included free at purchase
• 1 Year Renewal - $39.99 USD
• 3 Year Renewal - $ 99.99 USD
Smartphone Compatibility: iPhone: iOS 9.0 or later (iPhone/iPad/iPod Touch) THIS KIT IS 100 % PLUG AND PLAY NOTHING ELSE IS NEEDED .