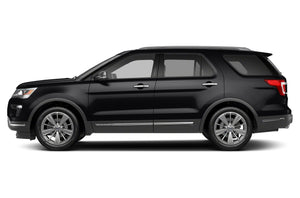 2016 - 2020 Ford Explorer Remote Car Starter Plug 'n Play Kit
Regular price $195.00 Sale
THIS IS MY PLUG & PLAY REMOTE START FOR THE 2016 - 2020 EXPLORER WITH REGULAR KEY OR PUSH TO START IGNITION . ACTIVATE THE REMOTE START BY PRESSING THE LOCK BUTTON 3 TIMES .  RUNTIME IS SET FOR 15 MINS 
Additional Information Requirements
MUST HAVE KEYLESS ENTRY ON YOUR KEY FOB
MUST HAVE A FACTORY HOOD PIN .
YOU CAN CHECK FOR A HOOD PIN BY SITTING IN THE VECHICLE PRESSING THE LOCK BUTTON 3 TIMES WAITING 30 SECONDS POPING THE HOOD IF HORN GOES OFF THEN YOU HAVE A HOOD PIN. ALSO YOU CAN TURN THE CAR ON POP THE HOOD AND IT SHOULD SAY HOOD AJAR IN YOUR CLUSTER
THE FOLLOWING OPTIONS ( IF EQUIPPED ) CAN BE CHANGED IN THE CLUSTER OPTIONS MENU . PICTURES ABOVE SHOW INSTALLATION .

Climate control.
Heated seats/steering wheel.

Runtime.

Remote start enable/disable.                                                            

BUILT IN SAFTEY FEATURES INCLUDE
The remote start system will not work if:
The ignition is on.
The alarm system triggered.
The hood is open.
The transmission is not in park (P).
The vehicle battery voltage is too low.
The service engine soon light is on.
THIS VIDEO IS FOR PLUG CONNECTIONS LOCATION ONLY .  USE INSTRUCTIONS THAT CAME FOR YOUR KIT FOR PROGRAMMING