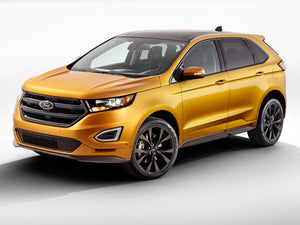 Ford Edge (2015)- 2020 Car Starter Remote Start 100% Plug 'n Play Kit No Horn Honk
Regular price $155.00 Sale
THIS IS MY 100% PLUG AND PLAY FORD REMOTE START KIT FOR THIS VEHICLE. THIS UNIT ACTIVATES BY PRESSING LOCK UNLOCK LOCK  ON YOUR FACTORY REMOTE. THIS KIT ONLY NEEDS TO HAVE THE MAIN T HARNESS PLUGGED IN AT THE IGNITION (PICS OF WIRE LOCATION INCLUDED). AND A T HARNESS PLUG AT THE OBD2 PLUG. THE OBD2 PLUG IS LOCATED ON THE BOTTOM OF THE DASH UNMOUNT AND CONNECT TO FEMALE T HARNESS REMOUNT MALE END BACK ON THE VEHICLE. 
NOTE YOU MUST HAVE 2 ORIGINAL (NOT COPY OR CLONE KEYS) TO PROGRAM . IF YOU ONLY HAVE 1 KEY THEN A 2 STEP PROGRAMMING PROCESS MUST BE DONE WHICH INCLUDES SENDING THE REMOTE START BACK TO ME TO FINISH THE PROGRAMMING .RETURN SHIPPING IS PAID FOR BY CUSTOMER
NOTE SOME 2015 EDGES WILL REQUIRE A CLUSTER UPDATE FROM THE DEALER IF VEHICLE SAYS TO DRIVE PUSH BRAKE MESSAGE ON THE DASH AND DOESNT GO AWAY. THIS UPDATE NEEDS TO BE DONE NO MATTER WHAT KIND OF STARTER FACTORY OR AFTERMARKET AND UNFORTUNATELY THERE IS NO WAY OF TELLING IF YOUR EDGE HAD THE UPDAATE UNTIL AFTER ITS INSTALLED.
YOU MUST INCLUDE YEAR AND MODEL AND IF IT HAS A STANDARD KEY OR PUSH TO START IGNITION AND GAS OR DIESEL AND OR HYBRID  AT CHECKOUT
PARTS INCLUDED:
* Pre-loaded Control Module
* Vehicle Specific Wire Harness
* Programming Instructions