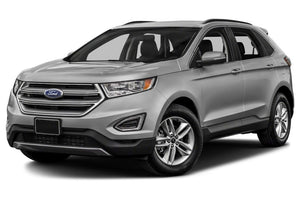 Ford Edge (2015 - 2020 ) Car Starter Remote Start 100% Plug 'n Play Kit
Regular price $185.00 Sale
THIS IS MY 100 % PLUG & PLAY KIT FOR THE 2015 - 2020  EDGE. THIS UNIT WORKS BY PRESSING THE LOCK BUTTON 3 TIMES ON YOUR FACTORY REMOTE.  ONCE STARTED YOUR PARKING LIGHTS TURN ON . RUN TIME IS SET FOR 15 MINS 
NOTE SOME 2015 EDGES WILL REQUIRE A CLUSTER UPDATE FROM THE DEALER IF VEHICLE SAYS TO DRIVE PUSH BRAKE MESSAGE ON THE DASH AND DOESN'T GO AWAY. THIS UPDATE NEEDS TO BE DONE NO MATTER WHAT KIND OF STARTER FACTORY OR AFTERMARKET AND UNFORTUNATELY THERE IS NO WAY OF TELLING IF YOUR EDGE HAD THE UPDATE UNTIL AFTER ITS INSTALLED .  
REQUIREMENTS FOR REMOTE START TO WORK
MUST HAVE KEYLESS ENTRY ON YOUR KEY FOB
MUST HAVE A FACTORY HOOD PIN .
YOU CAN CHECK FOR A HOOD PIN BY SITTING IN THE VECHICLE PRESSING THE LOCK BUTTON 3 TIMES WAITING 30 SECONDS POPING THE HOOD IF HORN GOES OFF THEN YOU HAVE A HOOD PIN. ALSO YOU CAN TURN THE CAR ON POP THE HOOD AND IT SHOULD SAY HOOD AJAR IN YOUR CLUSTER
YOU MUST INCLUDE YEAR AND MODEL AND IF IT HAS A STANDARD KEY OR PUSH TO START IGNITION AND GAS OR DIESEL AND OR HYBRID  AT CHECKOUT  
PARTS INCLUDED:
* Pre-loaded Control Module
* Vehicle Specific Wire Harness
* Programming Instructions