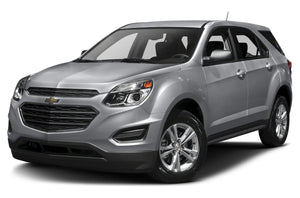 Chevrolet Equinox (Standard Key) (2010-2017) Remote Car Starter Plug 'n Play Kit
Regular price $260.00 Sale
It raises the standard of hassle-free installation convenience to a whole new level. It uses a multiple bus architecture with 10 separate communication ports that provide more complete functionality on every supported vehicle.
THIS KIT ONLY NEEDS 1 WIRE TO BE CONNECTED IF YOU WANT PARKING LIGHTS ON DURING REMOTE START OPERATION . 
VEHICLES WITH A FLIP OUT KEY AFTER USING THE LOCK BUTTON 3 TIMES TO START WHILE RUNNING THE OEM REMOTE LOCK/UNLOCK BUTTONS DO NOT WORK . YOU WILL NEED TO UNLOCK THE DOOR BY STICKING THE KEY INTO THE DOOR TO OPEN OR PURCHASE EXTENDED RANGE REMOTES .
-------------------------------
PARTS INCLUDED:

* Pre-loaded Control Module
* Vehicle Specific Wire Harness
* Programming Instructions