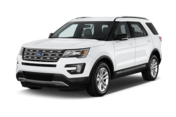 2016 - 2020 Ford Explorer No Horn Honk Rmote Start With Cell Phone Control
Regular price $350.00 Sale
THIS REMOTE START IS FOR THE 2016-2019 FORD EXPLORER ALL MODELS WITH AUTOMATIC TRANSMISSION AND  KEYLESS ENTRY .  PRESS LOCK UNLOCK LOCK  TO START VEHICLE. OR BY USING THE CELL APP.  THIS SEQUENCE WILL NOT HONK THE HONK WHILE PRESSING THE BUTTONS TO ACTIVATE THE REMOTE START. MY KIT INCLUDES PARKING LIGHT PLUG REQUIRE FOR THIS TO WORK . RUN TIME IS SET FOR 15 MINS.
REQUIREMENTS FOR REMOTE START TO WORK
MUST HAVE KEYLESS ENTRY ON YOUR KEY FOB
MUST HAVE A FACTORY HOOD PIN
 YOU CAN CHECK FOR A HOOD PIN BY SITTING IN THE VECHICLE PRESSING THE LOCK BUTTON 3 TIMES WAITING 30 SECONDS POPING THE HOOD IF HORN GOES OFF THEN YOU HAVE A HOOD PIN. ALSO YOU CAN TURN THE CAR ON POP THE HOOD AND IT SHOULD SAY HOOD AJAR IN YOUR CLUSTER .
PRODUCT - CARLINK CELLULAR
ASCL6
Cellular 6 offers today's most complete convenience and security solutions. Cellular 6 transforms traditional smartphones into a virtual transmitter to communicate with vehicle when hardware is installed to allow smartphone app virtually unlimited range (based on cellular coverage) to operate remote start and security system
THIS INSTALL VIDEO IS ONLY FOR REFERENCE OF THE PLUG CONNECTIONS AND LOCATIONS .FOLLOW YOUR  INSTRUCTIONS (NOT THE VIDEO FOR PROGRAMMING ).