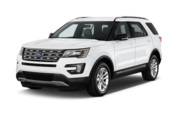 2016 - 2020 FORD EXPLORER NO HORN HONK PLUG & PLAY REMOTE START
Regular price $195.00 Sale
THIS REMOTE START IS FOR THE 2016-2019 FORD EXPLORER ALL MODELS WITH AUTOMATIC TRANSMISSION AND  KEYLESS ENTRY .  PRESS LOCK UNLOCK LOCK ) TO START VEHICLE. THIS SEQUENCE WILL NOT HONK THE HONK WHILE PRESSING THE BUTTONS TO ACTIVATE THE REMOTE START. MY KIT INCLUDES PARKING LIGHT PLUG REQUIRE FOR THIS TO WORK . RUN TIME IS SET FOR 15 MINS.
AFTER PURCHASE YOU MUST INCLUDE VEHICLE YEAR , MODEL AND IF IT HAS A KEY OR PUSH TO START IGNITION AND GAS OR DIESEL IN NOTES OR SEND ME A MESSAGE
REQUIREMENTS FOR REMOTE START TO WORK
MUST HAVE KEYLESS ENTRY ON YOUR KEY FOB
MUST HAVE A FACTORY HOOD PIN
 YOU CAN CHECK FOR A HOOD PIN BY SITTING IN THE VECHICLE PRESSING THE LOCK BUTTON 3 TIMES WAITING 30 SECONDS POPING THE HOOD IF HORN GOES OFF THEN YOU HAVE A HOOD PIN. ALSO YOU CAN TURN THE CAR ON POP THE HOOD AND IT SHOULD SAY HOOD AJAR IN YOUR CLUSTER .
THIS INSTALL VIDEO IS ONLY FOR REFERENCE OF THE PLUG CONNECTIONS AND LOCATIONS .FOLLOW YOUR  INSTRUCTIONS (NOT THE VIDEO FOR PROGRAMMING ).