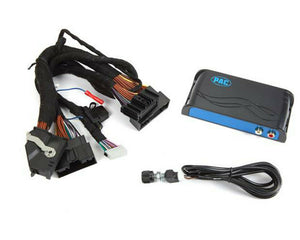 2011-2019 FORD VEHICLES EQUIPPED WITH 8.4 SONY SYSTEM PLUG & PLAY UPGRADE FOR ADDING A AFTERMARKET SUB AMP
Regular price $155.00 Sale
PAC APSUB-FD21 AmpPRO SUB Wiring Interface Add an aftermarket amp and sub to the factory system in select 2011-20 Ford vehicles with premium sound systems .
PAC APSUB-FD21
Modern cars often make it tough to add a subwoofer to your audio system. PAC's APSUB-FD21 interface allows you to add an amp and sub to the factory premium system in your Ford vehicle. The package includes an amp installation module, a Ford-specific harness, and a wired remote. The vehicle-specific wiring harness connects the amp module to the factory databus and supplies an unequalized 5-volt preamp signal for your sub amp. The interface also allows you to select a center frequency to boost or cut to tailor bass response to your personal preference. 
This package also includes a wired remote control for adjusting your sub's level. You'll be able to upgrade your bass response with a minimum of fuss while retaining the functions, controls, and familiarity of your Ford radio. If you're looking for a simple way to add some bass to your Ford vehicle, the APSUB-FD21 gives everything you need to get the job done.
This interface is designed for select 2011-20 Ford cars and trucks with premium sound systems.
READ LESS
Product highlights:
connect an aftermarket amp and subwoofer to your Ford vehicle's premium sound system
package includes amp installation module, Ford-specific harness, and wired remote
amplifier module supplies 5-volt preamp signal for subwoofer amp
options include flat frequency response or user-selectable center boost/cut frequency
Ford-specific harness simplifies installation
wired remote control included
warranty: 1 year
MFR # APSUB-FD21
2015-2017 FORD EDGE ALL TRIM LEVELS —
2016 FORD ESCAPE ALL TRIM LEVELS —
2015-2017 FORD EXPEDITION ALL TRIM LEVELS —
2011-2018 FORD EXPLORER ALL TRIM LEVELS —
2013-2017 FORD F-150 ALL TRIM LEVELS —
2013-2019 FORD F-250 ALL TRIM LEVELS —
2013-2019 FORD F-350 ALL TRIM LEVELS —
2013-2019 FORD F-450 ALL TRIM LEVELS —
2013-2019 FORD F-550 ALL TRIM LEVELS —
2012-2017 FORD FOCUS ALL TRIM LEVELS —
2013-2016 FORD FUSION ALL TRIM LEVELS —
2019-2020 FORD MUSTANG ALL TRIM LEVELS —
2013-2015 FORD TAURUS ALL TRIM L