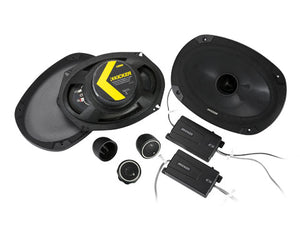 KICKER 46CSS694 CS Series CSS69
Regular price $165.00 Sale
CS Series CSS69
CS-Series 6x9-inch Component Speakers are built for awesome sound that plays as long as the ride takes you.
CS-Series components include titanium tweeters and two-way crossovers with a smooth 12dB slope and three-position tweeter adjustment switch (0dB/+3dB/+6dB), included in each external crossover. The optimized footprint means great sound with hassle-free installation, no matter where you mount it!
These CS speakers work best with 150 watts of recommended power. See below for more details.
Fits nearly every car made
12dB crossovers with a smaller footprint for easier installation
Three-position tweeter switch for dialing in your highs
EVC™ (Extended Voice Coil) technology help deliver remarkable bass response
Titanium tweeter construction and neodymium magnets to reveal subtle details
UV-treated poly-foam surround assists with precise linear excursion
Phase plugs in the woofer cones eliminate any distortion
Steel mesh grilles protect your drivers
Three tweeter mounting options including flush, angled and surface pods
Woofer Size | in [mm]
6x9 [160x230]
Tweeter Size | in [mm]
3/4 [20]
Dome Material
Titanium
Peak Power (watts, per ANSI/CTA-2031-A)
450
Recommended Amplifier Power (watts RMS)
150
Effective Frequency Range | Hz
30-21k
Woofer Mounting Hole Diameter | in [mm]
5 5/8 x 8 7/16 [143x215]
Woofer Bottom Mount Depth | in [mm]
3 3/16 [81]
Flush Mounting Tweeter Hole Diameter | in [mm]
1 9/16 [40]
Flush Mount Tweeter Depth | in [mm]
9/16 [14.5]
High Pass | dB, at Frequency | Hz
12, 4000
Low Pass | dB, at Frequency | Hz
12, 4000
High Frequency Output Attenuation | dB
0, 3, & 6
Bolt-Thru Grilles
Yes
Back to Home Page